PERSPECTIVES IN THE TEAM
Career at schell connect
We are looking for doers and talents
What makes us tick is not our machines and our building. It is the people who make a difference at schell connect. By contributing their skills, their enjoyment of their work and their sparkling ideas to our projects. We take our responsibility as an employer seriously: That is why we offer an attractive working environment in which our employees can develop and find opportunities for their future. Overcoming challenges together, achieving success and experiencing it together as a team: That's what a job at schell connect means.
You too can join schell connect
Flexible, family-friendly working hours
Pleasant and bright premises
Above average compensatory time off
Health management on demand
Salary above tariff, allowances and bonus
Nice and friendly atmosphere
Coffee & drinks flat rate
Fruit and vegetable basket

        


Your apprenticeship
Toolmaker (m/f/d)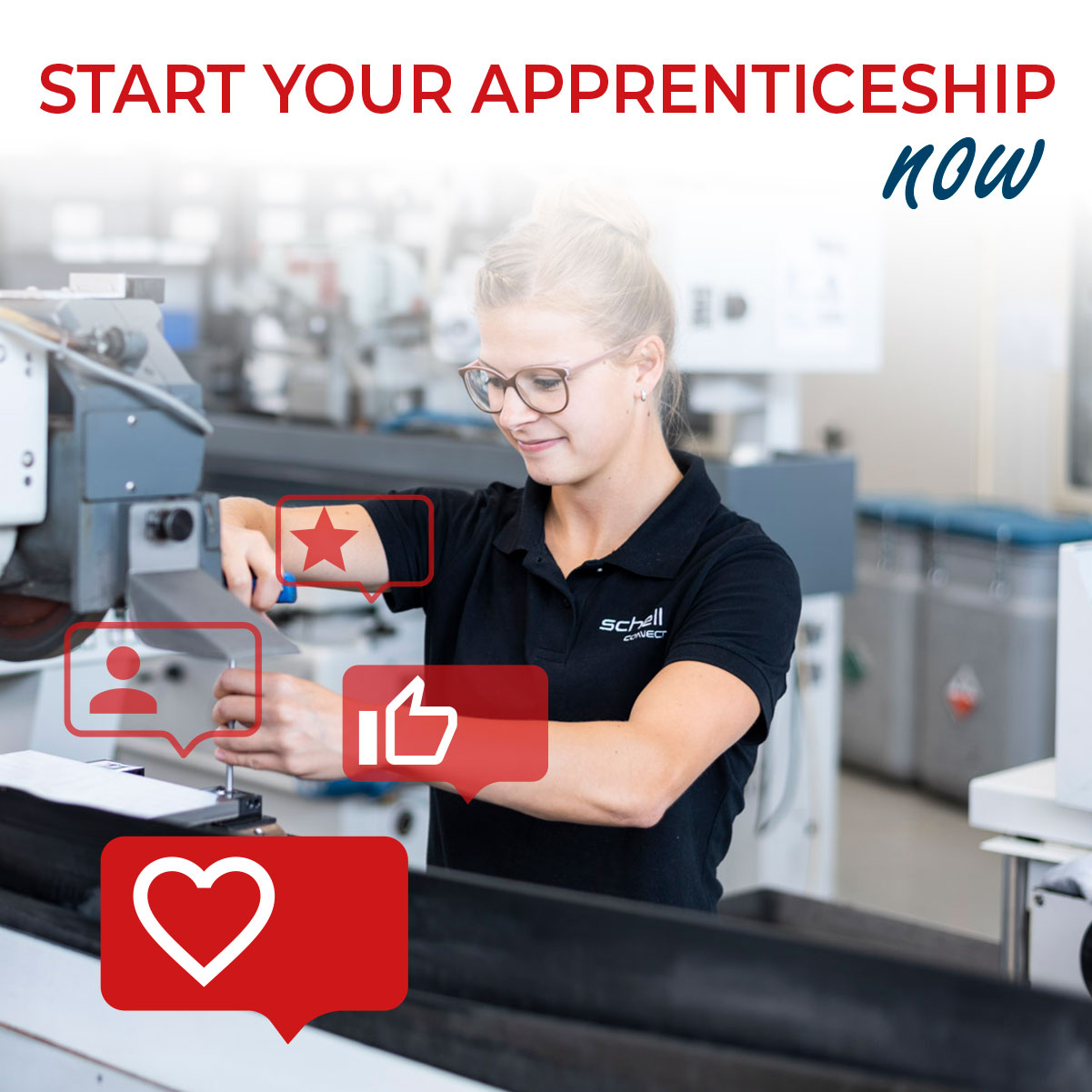 Tools fascinate you, you always wanted to know everything about the different machining processes? We show you everything about filing, drilling, turning, milling and grinding.
Your milestones
Tool manufacture for industrial series production
Cutting, forming tools
Knowledge of all important processing methods
Filing, drilling, turning, milling, grinding
Measurement Techniques
Optimization of production processes
Your profil
Technical understanding
Craftsmanship
Openness and sociability
Good imagination
Care and Accuracy
Motivation to work in a team
We offer
A secure job in a pleasant working atmosphere
Attractive working conditions and above-average salary
Numerous additional benefits such as pension etc.
Flexible working hours
Work independently in a highly motivated team
Short decision paths and flat hierarchies
Further education opportunities and training courses
Helping to shape the future of our company

        


Your apprenticeship
Industrial business management assistant (m/f/d)




You like to organize and want to keep an eye on procedures and processes so that all operational areas mesh perfectly? interlock perfectly? We will show you the varied range of tasks in an industrial company.
Your Milestones
Contact management customers & suppliers
Preparation of offer and order papers
Implement corporate strategies and projects
Office organization
Support in financial accounting
Procurement of production material
Your profil
IT skills, MS Office software
Communication strength and negotiation skills
Openness and sociability
Service-oriented thinking, good manners
Flexibility, quick learner, cross-departmental way of working
Good knowledge of spoken and written English desired
We offer
A secure job in a pleasant working atmosphere
Attractive working conditions and above-average salary
Numerous additional benefits such as pension etc.
Flexible working hours
Work independently in a highly motivated team
Short decision paths and flat hierarchies
Further education opportunities and training courses
Helping to shape the future of our company

        


Your job
Toolmaker Stamping and Forming Technology (m/f/d)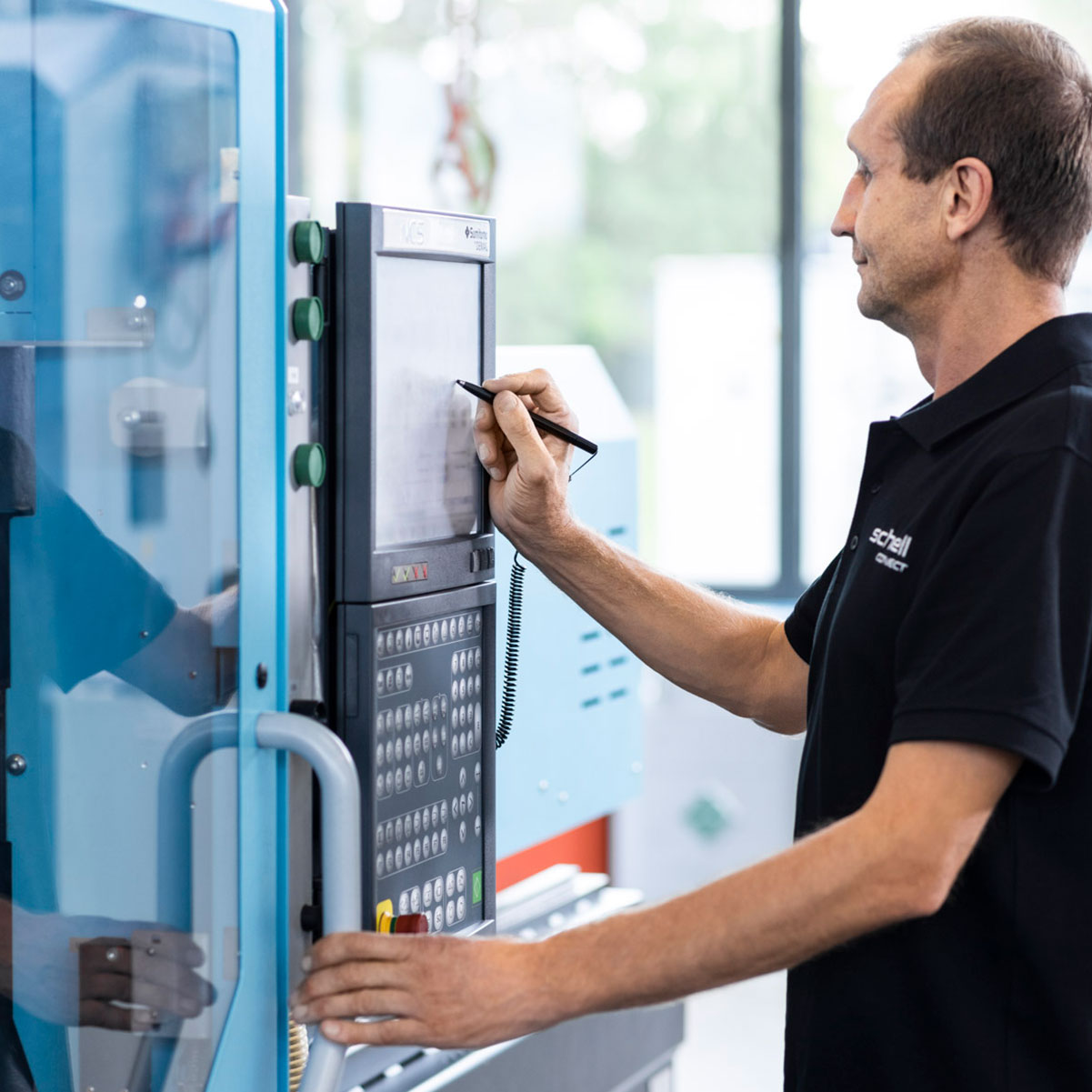 Your tasks
Maintenance and repair of progressive and punch-bending tools
Determining and correcting wear conditions and causes of malfunctions
Supervised assembly and commissioning of new tooling
Setting up automatic punching and bending machines for initial tool start-up
Contributing to the permanent optimization of production processes
Tuning and commissioning of new tools
Your profil
Completed vocational training as a toolmaker / mechanic
Good knowledge of metalworking (milling, turning, grinding, eroding)
Sure handling of technical drawings/documentation
Team ability, reliability, resilience and independent work
Several years of professional experience in toolmaking and stamping and forming technology
We offer
A secure job in a pleasant working atmosphere
Attractive working conditions and above-average salary
Numerous additional benefits such as pension scheme etc.
Family-friendly and flexible working hours
Working independently in a highly motivated team
Short decision-making processes and flat hierarchies
Continuing education opportunities and training
Having a hand in shaping the future of our company